Congress Information
Important NoticeAs an opportunity for everyone to gather in person after the pandemic over the years, we are eagerly preparing to hold the congress on-site. We are looking forward to your participation!
Registration for SpeakersAll presenting authors should have received an acceptance/rejection notification via e-mail by September 10.
Please do note that those who do not register for the congress and complete payment of the registration fee by the deadline of November 25(JST) will be automatically withdrawn from the final program.
Accommodation in JapanNo travel agencies have been mandated to organize the hotel booking. You are welcome to directly make a hotel reservation on your own nearby PACIFICO Yokohama.
Congress
The 36th Annual Meeting of the Japan Society for Endoscopic Surgery
Date
7 December (Thursday) – 9 December (Saturday), 2023
Venue
Pacific Convention Plaza Yokohama(PACIFICO Yokohama)
Congress President
Tomonori Habuchi
(Department of Urology, Akita University Graduate School of Medicine)
Registration
Registration Period
November 1(Wed) , 2023 – 23:59 of January 31(Wed) , 2024 (JST)
Registration Fee
| Category | Price |
| --- | --- |
| Doctor | JPY 20,000 |
| Other | JPY 20,000 |
| Medical Staff | JPY 5,000 |
| Student | Complimentary |
Online credit card payment is only available (we do not accept cash even for participation in person).
All listed fees include local consumption tax of 10%.
All the participants will have access to the program / abstracts in PDF data (to be announced few weeks before the congress).
Unpaid or partially paid registration will not be considered as valid until fully paid.
Registration deadlines are applicable considering the local time (JST).
Please note that "Student"category is available for investigators/students under 40 years of age only.
Official proof of student status/age (in English and valid max. 6 months prior to the registration) must be uploaded to the link upon completing your payment.
How to Register
(Please register via the "New registration" button at the bottom of the page after reviewing the information below.)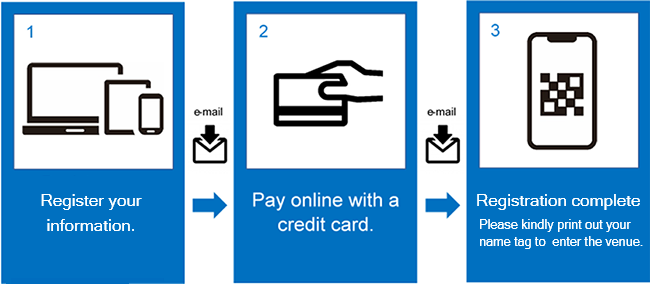 Payment Methods

Payment is accepted by credit card (VISA, MasterCard, JCB, AMEX, or Diners Club).
*Please note that online payment by credit card is the only supported payment method.
*Payment deadline: 72 hours after you've registered your information or the registration deadline, whichever comes first.
If registering during the event dates, please pay before arriving at the venue.
*Your registration will be considered invalid if payment is not received before the deadline, and you will be unable to create a new registration using the same e-mail address. Please use a different e-mail address if you wish to create a new registration. Please contact the support desk if you are unable to register.
Registration e-mail address (ID) and Password
You'll need the e-mail address and password that you registered when logging in to the service counter. Your password will not be included in e-mail communications from the conference organizer for security reasons, so be sure to make a note of it so that you don't forget.
E-mail address and password:
– Service counter (to download your Name Tag, Payment Receipt and Certificate of Attendance)
Changing your information
You can revise or change your information at the service counter as described below.
Your e-mail address, registration categories and fees cannot be revised or changed.
If you chose the wrong registration categories and fees, please contact the support desk (jses36@reg-convention.com) by e-mail and inform them of your issue.
Cancellation policy
Please note that we are unable to cancel registrations that have already been paid for or duplicate registrations, or to provide refunds. Additionally, please exercise care as we are also unable to process changes that would result in a change in fees that have already been paid.
Supported Browsers
Computer
Windows
Google Chrome (most recent version)
Mac (Macintosh)
Safari (most recent version)
Smartphone
Android
Google Chrome (most recent version)
iPhone
Safari (most recent version)
Registration Support Desk
Please contact Registration Support Desk if you have any queries related to registration. For anything other than registration, please contact Congress Secretariat.
Registration Support Desk of JSES 2023
E-mail: jses36@reg-convention.com
(10:00 am to 5:00 pm on weekdays)
Congress Secretariat of JSES 2023
c/o Japan Convention Services, Inc.
E-mail: jses36@convention.co.jp
*Please be sure to note your name and institution/company when submitting inquires.
FAQ (Click a question to expand its answer.)
Special Yokohama tour / event
The Congress offers special tour/event for the participants to get to know and enjoy the Yokohama Minato-Mirai area and the surroundings to the fullest. All the participants for the following tours are required to register on the application site in advance.
Congress Secretariat
Japan Convention Services, Inc.
14th floor Daido Seimei Kasumigaseki Bldg. 1-4-2,Kasumigaseki,
Chiyoda-ku, Tokyo 100-0013, Japan
E-mail: jses36@convention.co.jp