Program at a Glance
Welcome to 50th Annual Meeting of the Japan Society for Medical Education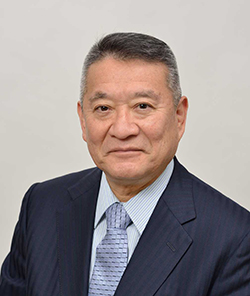 Yasuyuki Yoshizawa, MD, PHD
President
Tokyo Medical and Dental University
 As President of Tokyo Medical and Dental University (TMDU for short) I am honored to invite you to the 50th Annual Meeting of the Japan Society for Medical Education (JSME), the largest of its kind in Japan, which will be hosted at my home university for two days on August 3 (Fri) and 4 (Sat) in 2018.
 TMDU was first established as Tokyo National School of Dentistry in 1928, and then renamed as TMDU in 1946. The university is located in the Yushima/Shoheizaka area of Tokyo, which is considered sacred ground for scholarship and learning in Japan. Nearby is Yushima Seido, a historic Confucian academy of learning, where the famous Chinese deity Shennong, known for traditional Chinese medicine, is revered. TMDU is proud to have its campus in this historic center of learning.
 TMDU's vision is "Cultivating Professionals with Knowledge and Humanity, thereby Contributing to People's Well-being". Based on this vision, we at TMDU aim to foster independent, creative, pioneering, and internationally-minded leaders who have a broad range of knowledge, deep humanity, and a strong sense of ethics. We also seek to gather wisdom from every field of learning in order to advance interdisciplinary and cutting-edge research that will ultimately contribute to the greater public good. Furthermore, we strive to provide high-quality medical and dental care that nurtures the heart, mind, and body, not only for the local community, but also for the world.
 In setting the main theme for the 50th Annual Meeting of the JSME we drew inspiration from TMDU's vision to create the theme of "Cultivating Professional with Knowledge and Humanity," which we believe captures the very essence of medical education.
 TMDU has been very active in creating medical education alliances with universities abroad, including Harvard Medical School (HMS). Since 2002 faculty members from our university have actively participated in exchange programs at HMS where they have learned new teaching theories and methods and brought them back to help create a unique medical education program at TMDU.
 In FY 2017, TMDU welcomed 119 medical students in residency as part of the Japan Residency Matching Program, for which TMDU was the only university hospital that achieved a 100% matching rate for the fifth consecutive year. The medical students reported being highly impressed by the teaching environment of TMDU.
 TMDU has benefited greatly from the expertise and advice of renowned faculty members who have served as key advisors to our university. Among them is Harvard faculty member H. Thomas Aretz, who has won recognition for his efforts to improve medical education around the world through intra-institutional collaborations, graciously accepted our request to be an advisor to TMDU. Dr. Aretz's unstinting contributions to our university over the past decade are greatly appreciated. Another key advisor and friend of the university is Prof. Kamei, Robert K from Duke-National University of Singapore (NUS) Medical School, whose academic career at UCSF and Duke-NUS has focused on developing and evaluating the educational impact of innovative programs for learners at the undergraduate and graduate medical school level.
 It is a great honor for TMDU to host the Annual Meeting of the JSME, which will no doubt provide the perfect opportunity for our members to network with peers from across the world. I am confident that our knowledge and understanding of medical education will be further deepened by meeting together, discussing our experiences and debating various approaches to key topics, which will enable us to work towards a better future for medical education.